Easy AC is...
Your Factory Authorized Carrier Dealer in Tampa Bay
Carrier heating and air conditioning systems bring efficient, quiet and consistent comfort to millions of people.
---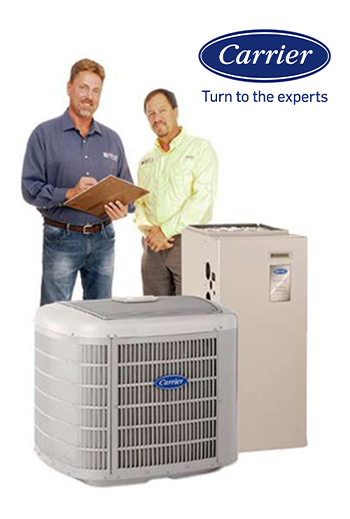 In this climate, comfort is non-negotiable
Let's not mince words here. Our summers are hot. Uncomfortably, unbearably, sometimes even unbelievably hot.
But we also see a few good cold snaps every winter, with nighttime temperatures low enough to kill our plants if we leave them outside. Those can make for very uncomfortable nights indoors too - especially if your heater isn't working.
So get a Carrier and rest easy. Carrier heating and air conditioning systems are among the most reliable and durable products on the market today. They're rigorously tested and have a fantastic history of customer satisfaction.
And Easy AC has all the Carrier expertise you could ever want. In fact, we're a factory-authorized Carrier dealer, which means we have to meet Carrier's exacting standards for professionalism and technical knowledge. We know how to install them, how to keep them running smoothly, and how to help you choose the system that's best suited for your home.
Energy efficiency
Carrier heating and air conditioning systems are among the industry's most energy-efficient. Many Carrier products achieve SEER ratings of 20 or higher (the minimum allowed by law is 13), and their heaters can achieve AFUE ratings of 98%. Learn more about AC Unit Rating and the SEER system in our News Section.
Indoor Air Quality
You can't have a healthy home without clean indoor air. Unfortunately, too many people live with a home full of airborne allergens and harmful pollutants - like dust, pet dander, chemical fumes and mold that can have a significant negative impact on respiratory health and overall quality of life. Carrier's line of indoor air quality products includes humidifiers, ventilators, ultraviolet lamps, air filters and monitors to keep these contaminants out - improving home air quality so you can breathe easier.
Expert installation
Of course, in order to get the benefits of your new Carrier HVAC system, it has to be installed by people who know what they're doing. People with very specialized training. People with deep technical expertise built on years of experience in the industry. In other words, people like Easy AC.
Our technicians eat, sleep and breath this stuff. They've installed countless systems in homes and businesses throughout the Tampa Bay region and they've faced just about every design and implementation challenge you could imagine. They know all the tricks to help you get the most out of your new Carrier system - and they're ready to roll.
Call Easy AC today to speak with one of our Carrier experts. We'll be happy to come inspect your home and help you choose the right Carrier system and products for you.
---